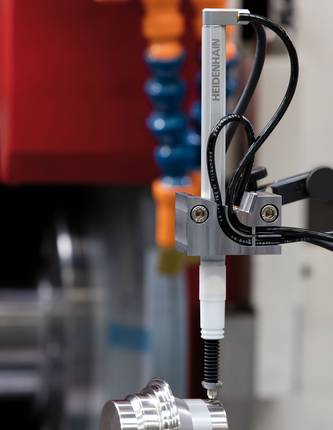 HEIDENHAIN-SPECTO ST 3087 RC
Well protected in-process measuring
In-process measurements play an increasingly important role in quality control. Because with them, components can be tested directly in the machine or at least close to production in the workshop—with high precision while saving time and money. This is why HEIDENHAIN offers the HEIDENHAIN-SPECTO ST 3087 RC length gauge.
The HEIDENHAIN SPECTO ST 3087 RC is particularly suitable for applications in harsh environmental conditions. Measuring processes are possible directly in the production process, for example in machining areas. For this purpose, the ST 3087 RC has special protection for its measuring technology.
This protection is provided by a special housing that—in its rest position—accommodates the plunger and a bellows, which in turn surrounds the plunger. In the rest position, a splash guard also closes the opening for extending the plunger. For a measurement, which normally takes place when the cooling lubrication is switched off, the plunger in the bellows is driven out of the housing by compressed air.
The optical scanning provides high-accurate position values with a maximum error of ±1 μm over the entire measuring range of 30 mm. This permits the measurement of differing components on the same device. In addition, the photoelectric scanning together with the ball guide also ensures consistent repeatability when scanning oblique surfaces. The cycle time for measurements is below 1.5 s.
Highlights
| | |
| --- | --- |
| Special plunger guard | Protection against exposure to lubricants |
| High degree of protection | IP 67 |
| Especially durable ball-bush guide | Outstanding accuracy in the measuring loop |
Products used in this application
| | |
| --- | --- |
| ST 3087 RC with clamping shank fastening | 1120598-04 |
| ST 3087 RC with fastening on a plane surface | 1120598-03 |
| DA-400 filter system for cleaning the compressed air | 894602-01 |