A strong partner for worldwide service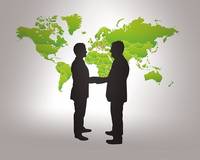 Globalization is a cutting-edge topic, and not only for large companies. As a result, many medium-sized companies have also established modern production sites in the Far East and overseas far away from their headquarters. Machines and systems proven at the headquarters are used at all company locations so that the same quality standards can be fulfilled everywhere. Consequently, the requirements on service and spare part supply are the same at every company location.
HEIDENHAIN therefore offers its customers identical service worldwide. More than 50 service agencies ensure area-wide on-site support in all industrialized countries. Of course the network is especially dense in Europe, America and Southeast Asia, the leading regions for the production of exacting technical products. HEIDENHAIN ensures the supply of service by its own subsidiaries in all essential countries. These are additionally supported by HEIDENHAIN regional service bases and specially chosen qualified distributors.
Do you rely on numerical controls, linear and angle encoders, length gauges and touch probes or rotary encoders from HEIDENHAIN? Do you use HEIDENHAIN products in high-precision machine tools, in machines for the production and further processing of electronic components as well as in automated systems and machines, in elevators or in medical technology? Then HEIDENHAIN's worldwide presence offers you many benefits:
HEIDENHAIN provides replacement parts and units quickly—in many countries within 24 hours.
You can also rely on qualified service support on site. Repairs are performed professionally, and the mounting of units and parts within the scope of an upgrade or retrofit are conducted with the accustomed high-level HEIDENHAIN quality.
Qualified HEIDENHAIN employees hold customer and user training courses in the customer's country and in the local language. This includes in particular training courses for NC programming, but also for service or adaptation of controls and encoders to machines.