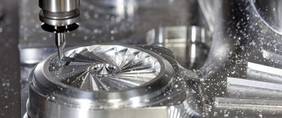 This year's appearance by HEIDENHAIN at EMO is dominated by "Dynamic Efficiency" and "Dynamic Precision." These concepts comprise functions for TNC controls with which milling and turning operations can be made even faster and more exact. This means that you can accomplish increasingly complex machining tasks in much less time but with significantly better quality. In short—more efficiently and precisely!
Dynamic Efficiency
You can use "Dynamic Efficiency" in order to improve efficiency in heavy machining, to optimize the machining time, and to increase the metal removal rates: + ACC – active reduction of the inclination to chatter + AFC – load-dependent adaptation of the feed rate + Troichoidal milling – efficient machining of any kind of slot
Dynamic Precision
"Dynamic Precision" helps you to more effectively exploit the accuracy potential of your TNC controlled machine tool. You gain the advantages of high production rates of precisely machined workpieces with better surfaces, increased workpiece accuracy and reduced machining times: + CTC – compensation of acceleration-dependent position errors + AVD – active damping of drive train and machine setup vibrations + PAC/LAC/MAC – position-/load-/motion-dependent adaptation of control parameters
TNC controls of the newest generation Daily presentations and live machine demonstrations at HEIDENHAIN's EMO booth will convince you of how powerful and capable our newest generation of TNC controls is. The machine is controlled by HEIDENHAIN's TNC 640 high-end contouring control for machining centers and milling/turning machines. It now features one-of-a-kind, incredibly detailed 3-D simulation graphics, which can simulate milling and turning operations in a single graphic representation. Furthermore, it now has time-saving and practical functions conceived especially for turning operations. The key concepts here are blank form updating and recess-turning cycles.
Also from HEIDENHAIN The main topics are complemented by HEIDENHAIN's measuring systems, ranging from angle encoders to linear encoders to length gauges. Information about interfaces and quality assurance is also available. And at our programming stations we will show you how easily you can program difficult machining operations, using our conversational programming language.
We invite you to visit our booth at the trade show, and are looking forward to a pleasant discussion with you.