HEIDENHAIN at the EUROMOLD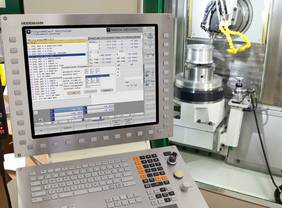 The central topic of the HEIDENHAIN booth is the active presentation of the TNC 640 milling/turning control. The new software includes important and proven functions that the machinist is already familiar with from the iTNC 530 or MANUALplus 620. For example, the TNC 640 has a DXF converter for opening CAD files directly on the control in order to extract contours. The machining time is optimized with the Adaptive Feed Control function (AFC). Here the TNC controls the feed rate during the entire machining time without exceeding the maximum spindle power. The TNC's Dynamic Collision Monitoring (DCM), interrupts machining whenever a collision is imminent and so increases safety for the machine and the operator. This helps to prevent machine damage, which can result in costly downtimes. Unattended shifts become safer and more reliable. New functions have also been integrated for turning operations, such as new cycles for recess turning, and blank form updating when using the contour turning cycles.
The new limit plane feature is a powerful yet flexible function for graphically setting machining limits with the iTNC 530.
There's also news in accessories for rapid setup of tools and workpieces: The new touch probes TS 460 (workpiece touch probe) and TT 460 (tool touch probe), feature two transmission methods: infrared and radio. Combining the advantages of infrared (very high accuracy and rapid signal transmission) with those of radio (high range and large amounts of data) makes it possible to use the touch probes in many different types of situations.