HEIDENHAIN Helpline
Your direct line to technical support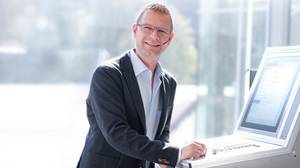 Throughout the service life of a machine, the HEIDENHAIN Service department offers professional and tailored support for machine manufacturers and users. We provide services starting from the design phase of a new machine and field service, all the way to optimization and retrofitting support. With the Helpline, you benefit from five technical support areas working together in search of solutions.
Find the right helpline contact person for your HEIDENHAIN product
Every year, the HEIDENHAIN Helpline takes 5,000 calls. By phone or e-mail, in WebEx sessions, or through remote servicing, we work with you to find solutions. If needed, we can also support you on-site for troubleshooting at the machine with our rich theoretical and practical expertise. Select the product you need help with, and find the right contact person on the HEIDENHAIN Helpline.
Helpline hours
Monday – Thursday
8:00 a.m. – 4:30 p.m.
Friday
8:00 a.m. – 3:00 p.m.
On-call service
Monday – Thursday
4:30 p.m. – 8:00 p.m.
Friday
3:00 p.m. – 8:00 p.m.
Saturday and holidays
8:00 a.m. – 6:00 p.m.